The Gold Update by Mark Mead Baillie — 732nd Edition — Cortona — 25 November 2023 (published each Saturday) — www.deMeadville.com
"Basking Under Gold"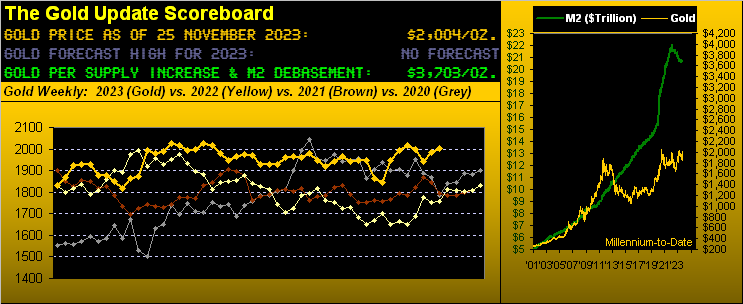 Greetings from under the Tuscan sun. Here in Cortona, recorded history dates all the way back to the Etruscans in the 8th century BC, (which for you WestPalmBeachers down there is some 2,900 years ago). And in those days, Gold was employed in wire form toward implanting teeth as "dentures" from animals into those locals having lost same. 'Course, 'twould not be until 1252 AD that Gold as an internationally-recognized currency would appear, namely as the fiorino (or Golden Florin), following which (dare we say) "the rest is history".
As for the rest of this week's edition of The Gold Update, as noted in the prior wrap 'twill be brief given our being in motion: "… just straight to the point with a salient graphic or two along with our view…" And what we're viewing for Gold looks quite positive as we go to its weekly bars from one year ago-to-date: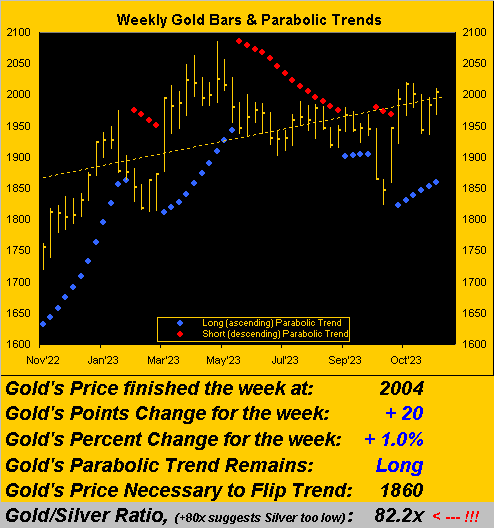 Through Gold's 47 trading weeks so far in 2023, yesterday's (Friday's) closing price of 2004 ranks as the year's sixth-highest weekly settle.  However, the sticky area across the five better settles is the tight price range of 2016-2025.  Thus the Gold Short may smugly say:  "We've been here before, so there ain't no more."
Regardless, given Gold's weekly trading range now being 53 points, 'twouldn't be untoward to find Gold reach 2057 within one week's time.  Again, any weekly close above 2025 would be ample territory to then test the year's 2085 high (04 May '23), and further the All-Time 2089 High (07 August '20):  the latter is just +4.2% above today's 2004 level.
Moreover in looking toward next month, 26 of the past 48 Decembers have been net positive for Gold, including each of the last six:  +2.6%, +4.5%, +3.4%, +6.4%, +2.9% and +3.8% from 2017 through 2022 respectively.  Whilst Smart Alec might thus say "Down then"; our preference rather is "December's trend is our friend."
And toward closing, the Economic Barometer's fallout suggests upside Gold will out should the Fed stew and pout: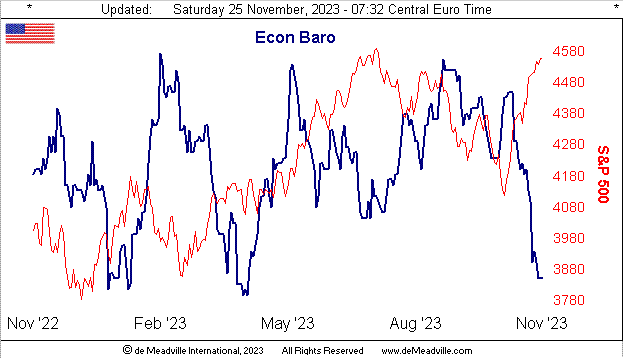 So there we are ever so briefly — yet hopefully saliently — for this week. Mind too your favourite Gold information at the website: simple select "Gold" under the BEGOS Markets menu and all the price-leading information is there: Gold's Market Value, Trend, Profile, Magnet, Range, and the currently-highlighted Market Rhythm featuring the 12-hour parabolic study. We'll therefore see you in a week's time with the usual graphics-rich end-of-month edition. Until then: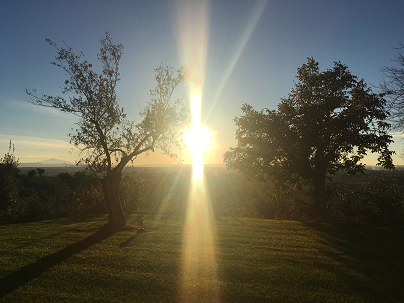 Bask under your Gold!
Cheers!
www.TheGoldUpdate.com
www.deMeadville.com
and now on Twitter("X"): @deMeadvillePro